30 years later, we got "Gossip Girls" and "Glee" to look up for teen stories and fashion. 30 years ago it was all about the "Brat Pack" and Molly Ringwald who was the epitome of teen idles.
I remember watching a TV show in which people asked the question like "Who brought the shoulder pads into the high fashion?" Most answered "It was 'Dynasty' and 'Dallas'" and others said "'Pretty in Pink'".
I had watched "Sixteen Candles" with Molly Ringwald a while ago and always wanted to check out "Pretty in Pink" and am anxious to see how Molly pulled off the entire "Retro Chic" trend back to her time.
"Pretty in Pink" is a sweet teenager love story, sort of "cindarella" style. Molly is a young girl growing up poor with her single father. Then she met her Prince Charming at school. The whole thing of "cross class" started.
In the movie, every outfit of Molly has something pink in it. She probably looks like an odd ball in today's fashion world. But back to 80s, there was a huge trend on retrospective dressing and apparently she was the trend setting. I did see shoulder pads, a lot. :)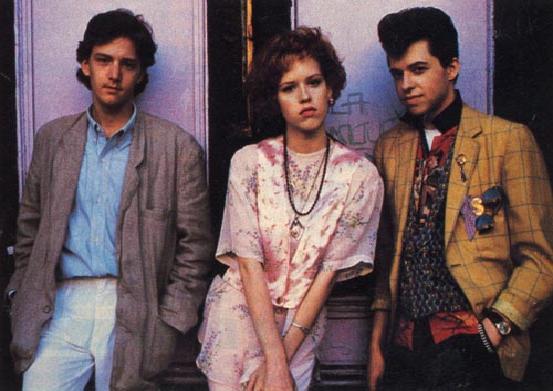 Yeah, the boy on the right to Molly IS John Cryer. You know I am talking about "The Two and Half Men". That John Cryer. :)
So to pay the tribute to the "Best Teen Movie in 80s", I decided to wear this frayed edge tweed jacket by Zara, and a berry pink drees underneath. :)
Speaking of Zara, I think Erica Hill was wearing this jacket during yesterday's "CBS This morning" airing. :)