80s was definitely a very interesting period in America. It was fun, colorful and everything was ...big!
The most famous and hidious wedding dress ever, was worn by Princess Diane in 1981 marrying to Prince Charles. It was so unreal but people still love it till today. Guess it was like a fairytale becomes reality.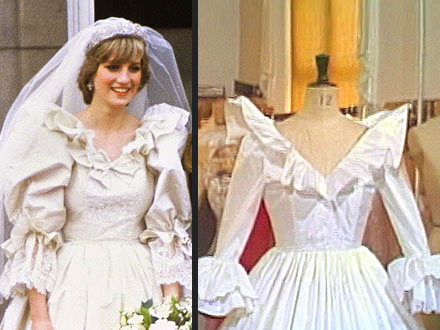 Cher at Oscars in 1986. This dress was made by Bob Mackie.
Rumor has it that she was not happy the loss of nomination in 1986, so she decided to go extreme, mocking the Oscars in 1988 and this time she did win.
Madonna's "Material Girl" Dress during the 80s
Brit Beauty Elizabeth Hurley in the infamous "safety pin dress" by Versace in 1994
Gwyneth Paltrow won her first Oscar in 1999 worn this pink Ralph Lauren, which put her on the map of hollywood most classic beauties. People cannot stop comparing her with Grace Kelly.
Jennifer Lopez in Versace at 2000 Grammys
Bjork's Goose Dress in 2001 Oscar definitely raised lots of eyebrows... You'd have to give credit to the girl for being...so over the top, literally.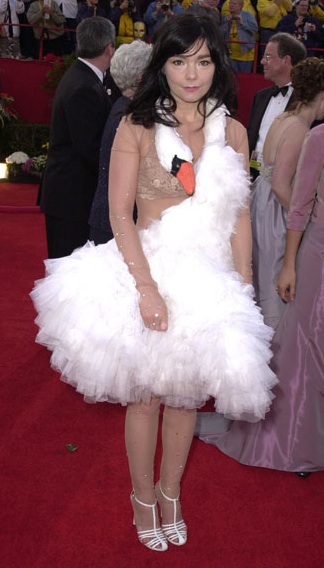 Halle Berry won her Oscar in 2002 as the first African American actress for the hornor in the leading actress category. The dress was made by Elie Saab.
I think it should be a perfect closure of the chapter by posting the last but not the least famous and beautiful wedding dress worn by Catherine Middleton at her wedding to Prince William in 2011, 30 years after the Royal wedding of the 20 century: Princess Diana to Prince Charles
Too many dresses too little time... There are so many equally beautiful and unforgetable dresses in front of our eyes, and there will be many more to come as history doesn't stop here.
Oh well I hope you enjoyed these blogs. I sure did. :)
Now, I am officially into a Fashion Rut...:) But please remember that quote "Feel like a Woman, Wear a dress".