Plot Spoiler Alert: if you have not watched "Downton Abbey" Season 2, please skip the post.
I have been wanting to write something about this for a long long time...Finally last night PBS finished airing the last episode of "Downton Abbey" - Christmas Special.
There's always a lot to talk about when writing a review about a TV show with more than a dozen of episodes, 33 equally complext characters, and well received cross the world. I will try to make a few key points without dragging too long. :)
The Plot
Different than a film, I heard that writers of a sitcom or TV show normally don't have a complete storyline to begin with. The destiny of the characters and the progress of the plot will depend on how the audience receive them. I am sure when Mr. Fellowes started the season 1 he had a bigger picture in his mind. Hence some clues were left by the end of last episode of the season so that he could pick them up later if we all want the show to go on.
One potential danger of doing so is that sometimes, things can get out of hands when the plot was not well constructed. Some critics felt that season 2 actually showed more Mr. Fellowes' loose and choppy hand as he might not be very good at writing for a TV show. To me, this sounds inevitable.
Season 2 was longer. However, some of the scenes were added simply to keep it going. What's the point of that love affair or fling of Robert with Jane? What's the point of the existence of Lavinia? and that miraculous recovery of Matthew? I know the show tries to tell us that the War did change everybody's life in many ways. However these pieces didn't add on anything positive to the show.
Mary and Matthew
I guess the main thread is the love/hate relationship between these 2. By the end of season 1, we learned that Mary refused Matthew and Matthew would move on...However, in the the second season Mary started out rather opposite from her character. She represented herself as a cold and calculated lady during the first season, but showed more care and feelings toward Matthew and pretty much anybody else for that matter in the second season.
Matthew is less complex. But also more bone head in the second season. I still cannot forgive his heartless behavior with Lavinia.
TV shows are fantacies. So one of the purposes should be making the audience happy despite whether it should present reality or not. Remember when Sir. Dolye was tired and decided to kill offf Sherlock Holmes, the whole world was so angry and sad that he had to bring him back to life? I guess Mr. Fellowes might feel the same pressure so a Chrismas Special was produced to give us some hope. :)
The existence of Lavinia was kind of confusing. Unlike Sir Richard Carlisle, who actually did participate in part of an important plot, the character of Lavinia didn't seem present any importance. If you simply erase her from the show, I bet the audience couln't even notice any big difference.
Anna and Mr. Bates
Now we are talking about a couple who is probably on everybody's favorite list. One great thing about this show is it didn't just focus on the uppper class and what happened upstairs; it also tells stories about the servants who suffer equally from agony but also enjoy the ecstasy. Actually one of the major clues left by the season 1 was the mytery around Mr. Bates and his wife. Of course once it's uncovered in season 2, it was pretty disappointing. LOL
Mr. Bates becomes a clue again by the end of the season 2. But it also makes us wonder, what's next? now are they going to truly enjoy their love?
Cousin Violet
In "Gosfort Park", Maggie Smith's character was very similar to Cousin Violet in "Downton Abbey". During the first season, grandma was kind of old fashioned and conservative but in season 2, she became more whimsical, quirky, lot fun to watch. Guess Mr. Fellowes truly respecst and understands Dame Maggie Smith's acting potentials so he offers so much for Maggie Smith to play with.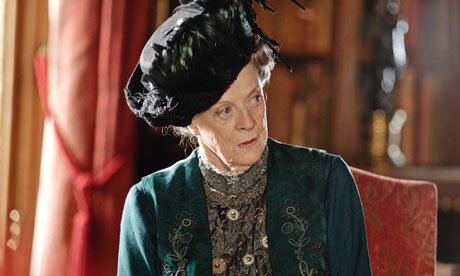 I just learned that the season 3 is currently being filmed and will be airing in UK this coming septemper, 2012. I also learned that the story will cover 18 months from 1920 after the Great War. The "Roaring 1920s" has been always fascinating to me, the fashion, the social and culture trends, Art Deco, and the feminism. I look forward to learning what final verdict it would be for the Bates' case, and what Mary and Edith would be wearing. Are they going to look like 2 of those flapper girls? What's going to happen to Mary and Matthew? Sir Carlisle or a replacement would come back? Who knows...It's always interesting to wait to see what will happen.
Julian Fellowes Interview about "Downton Abbey"